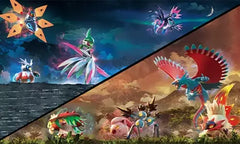 After the announcement of the English set: Paradox Rift, anticipation grew for what the equivalent Japanese set would be. We now know that we will be treated to not one, but two new sets: Ancient Roar and Future Flash.
The sets will split certain new cards based on the new Ancient and Future mechanics. These mechanics are similar to how Rapid Strike / Single Strike functions, with specific Future or Ancient labelled cards working specifically with other Ancient / Future cards.
Below, is a quick breakdown of what we know so far.
Ancient Roar / Future Flash Set Information
Ancient Roar / Future Flash will both contain 66 cards + a currently unknown amount of secret rares.

Release date for both are the 27th of October in Japan. Stock is likely to hit the UK market from the 1st November onwards.

30 booster packs per box and 5 cards per pack.
Ancient Roar / Future Flash UK Prices
The Japanese Pokemon market continues to be highly unpredictable, and prices in the UK are likely to be much higher than the official MSRP in Japan.
As always, we will wait until the price is more reasonable before offering this product on our website; likely after release.
Check back for more information and card previews as we approach the release date!
Ancient Roar / Future Flash Card Images
Related articles