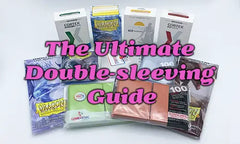 It can be a daunting task with so many brands and types of TCG sleeve on the market to pick 2 that may or may not fit your needs, sleeve well (or at all) together, and at the end of it all, fit into your chosen deck box. 
In this guide we have combined the most popular inner and outer sleeves and tested their fit into every deck box we could get our hands on - so you don't have to!
Simply select your choice of inner sleeve and outer sleeve from the dropdown menus and you will find our detailed findings on that exact combination. To see our in depth reviews for each individual product, please visit our collection of product reviews here.