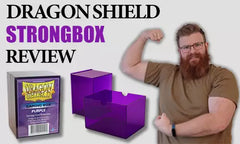 There are plenty of fancy and elaborate deck boxes on the market but can any utility be found in a simple plastic box? A box that is strong. A Strongbox if you will. Dragon Shield seems to think so and we're inclined to find out.  
Is the Dragon Shield Strongbox built well?
Before we get into the nitty gritty of the review, we must first say that when unboxing the Dragon Shield Strongbox we found the 2 halves were stuck tightly together and incredibly difficult to pry apart. We had to resort to using a small tool to get the box open which damaged the bottom of the deck box. After checking a 2nd box we were faced with the same issue. Once opened the first time, the problem does not rear its head again. Not a great start but please note that we cannot say for certain if we got unlucky with our batch or if this is a prevailing problem with all Strongboxes.
The storage compartment along with the grooved top and bottom of the Dragon Shield Strongbox.
Anyway, with a name like 'Strongbox' we would hope that emphasis be placed on its structural integrity and overall toughness. We're glad to report that the Strongbox is indeed tough, using 1.8mm thick plastic which falls in between the thin bendy plastic of products such as the Gamegenic Deck Holder and the thick, rigid plastic of the Ultra Pro Satin Deck Boxes.  
Even though the plastic is sturdy, it is brittle enough to crack or snap under enough force and feels fragile enough that you do not want to drop it onto a hard surface. What's more, the plastic is easily scratched and the marks of regular use will start to show fast. 
The Strongbox is designed to be stackable, with discreet raised grooves on the top and bottom of the box to keep them neatly in place. A nice feature adding utility to this otherwise simple plastic box. 
Overall, the Dragon Shield Strongbox is tough, but there is no escaping its basic design and materials. A steady 6/10 for build quality and toughness.
Can we fit 100+ double-sleeved cards inside?
Dragon Shield claims that 'the Strongbox holds 115+ single sleeved cards or 100+ double-sleeved cards' so we put this to the test. With 71mm of storage space, it is true that most combinations 100 double-sleeved cards do fit inside the Strongbox - but not all. Most notably, the Dragon Shield Stronghold does not fit Dragon Shield's own Sealable Perfect Fits or Gamegenic's Closable Inner Sleeves. 
To see exactly which combinations of sleeves the Strongbox will fit, you can refer to our Deck Box Comparison Tool.
Is the Dragon Shield Strongbox secure?
When we talk about security we mean the likelihood of a deck box preventing its contents from spilling out. The Strongbox does not have a mechanism to secure its two halves and, therefore, does not have a way to contain its cards should it be knocked, held incorrectly, or dropped.
For thoroughness, we tested this by filling the Strongbox with 100 double-sleeved cards and turning it upside down for a classic shake test. But hold up - the 2 halves are already sliding apart before we get the chance to shake! As expected, the lack of locking mechanism means no resistance when turned upside down. 
This is a significant issue as it prevents this deck box from being considered for transportation. If you were to carry this box around you would need a third party solution for securing it: tape, a rubber band, or another box. Which renders this somewhat unusable for that purpose.
A disappointing, though not unexpected, 2/10 for security.
The Strongbox comes in an array of colours. Some are translucent and some are opaque.
Can we fit in any Accessories?
The Dragon Shield Strongbox was not designed to store dice or any other gameplay accessories - at least not along with 100 double-sleeved cards. You can always improvise some space for such add-ons if you do not require the entire space for cards but we would recommend choosing a deck box with native accessory storage.
How much does the Dragon Shield Strongbox cost?
The RRP of the Dragon Shield Strongbox is £3.99 but you can normally find them cheaper at £3+. At the time of writing, availability is not widespread in the UK.
Closing Thoughts
Understanding the Dragon Shield Strongbox's purpose and functionality is key to unlocking its true worth. Due to its lack of security, we prefer to see this as a storage box for your home collection rather than a vessel for transportation. The extensive choice of colours, in built stack-ability, along with its spacious interior, all lend well to this objective. Housing your multiple decks in a set of Strongboxes before decanting them into an 'out and about' deck box for game nights would make a lot of sense. 
Furthermore, the Dragon Shield Strongbox can double up as a storage solution for non TCG items. They look great on a shelf and you can put just about anything you like in them.
| | |
| --- | --- |
| Build Quality and Toughness  | 6/10 |
| Storage | 71mm - fits all combinations of sleeves apart from sealable inners. |
| Security | 2/10 |
| Accessories | ❌ |
| Price | £3+ |
Competing directly with Ultra Pro's Eclipse 2-Piece Deck Box, the Strongbox is slightly weaker (1.8mm thick vs 2.2mm thick) but offers significantly more storage space (71mm vs 66mm). Both options come in a nice array of colours and which one to buy will depend entirely on your own requirements as a player/collector.  
Related articles