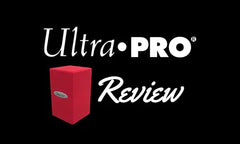 The Ultra Pro Satin Tower Deck Box has built a strong reputation in the past several years for being one of the best Deck Boxes on the market, but how does it compare to its many alternatives in 2023? Here, we'll take an in depth look at the Satin Tower to see if it still lives up to the hype. 
Build Quality and Toughness
The Ultra Pro Satin Tower is made from a thick, sturdy plastic and consists of 3 parts; the lid, storage compartment, and the accessories tray at the bottom. All 3 parts are injection moulded and kept secure by a simple snap-fit locking mechanism. The 3 parts can be mixed and matched with other Satin Towers and even the Satin Cubes giving players the option to further customise to their tastes.
The 3 parts separated then custom combined with a Satin Cube.
The individual parts will bend slightly if you put enough pressure on them but it would take quite some force to warp or break them. More importantly, the Satin Tower is almost impossible to bend when assembled; and trust us, we tried! 
You may think that being a big block of hard plastic would mean sacrifices in aesthetics but surprisingly enough this isn't the case. The Ultra Pro Satin Tower is well finished and has a completely smooth outer surface which is pleasant to the touch. As well as this, it now comes in a huge variety of colours and different finishes such as the Hi-Gloss, Iridescent, and even Glitter versions. Most players are bound to find one that suits them.
All things considered, we can confidently rate the Satin Tower a perfect 10/10 for Toughness and Quality of Build.
How many cards does the Satin Tower hold?
With 100 card formats becoming ever more popular, such as Magic The Gathering's Commander format, it is vital that a 100+ Deck Box fits the 100 sleeved cards it claims to, and preferably 100 double-sleeved cards for good measure.
Featuring 76mm of internal card storage space and most combinations of inner/outer sleeves falling comfortably short of that, the Satin Tower ranks as the #4 most spacious 100+ Deck Box out there. For a full breakdown of how each Deck Box ranks in this category you can visit our Deck Box Comparison guide.
As shown in our Deck Box Comparison Tool, where we go beyond the numbers and test every single combination of inner and outer sleeve, we found that almost every single combination fits into the Satin Tower. In fact, the only combinations of sleeves the Satin Tower will not fit are the ones featuring Extra Thick Inner Sleeves - not something to worry about if you don't plan on using them.
How secure is the Deck Box?
The Satin Tower is held together by a snap-fit locking mechanism consisting of small nubs and divets molded into the hard plastic.
A closeup of the nubs and divets making up the snap-fit locking mechanism.
To test this locking mechanism, we filled the Satin Tower with a full 100 card deck, some dice in the accessories tray, and then treated it to a vigorous upside down shake test. The locking mechanism held strong throughout some serious shaking and proved more than capable of keeping its contents locked in.
It is worth noting that given the strength of the locking mechanism, some care is required when taking the lid off the Deck Box to avoid the contents spilling out from the momentum. 
Overall, we would give the Satin Tower a 9/10 for security with a footnote that the nubs and divets are likely to degrade with frequent usage, leading to a less secure locking mechanism over time. As always, our ratings given for security are based on comparisons to other deck boxes.
Does the Satin Tower have space for Accessories?
Yes, the Satin Tower has a secure accessories tray at the bottom of the deck box which measures 76mm x 70mm x 25mm equating to 133cm3. While we would consider this a spacious amount of room, the depth of 25mm is not enough to fit any oversized spin-down dice found in some games.
If you do not require any room for accessories, Ultra Pro have recently made a more compact version of the Satin Tower, aptly named the Satin Cube using the same materials and design, just without the accessories tray.
How much does the Ultra Pro Satin Tower cost?
The cost of this Deck Box depends on the colour and aesthetic finish of the design. In general, the cheapest version is the basic 1 colour matte version (around £12), with the Glitters, Hi-Gloss, and other variants being slightly more expensive. 
Prices of course vary between vendors and can fluctuate over time so we encourage you to do your own research on price.
A huge range of different finishes. From left to right: Metallic, Hi-Gloss, Rainbow, Glitter, Forest Oak.
Closing Thoughts
In summary, the Ultra Pro Satin Tower is exceptional. You will not find a more durable and secure Deck Box to keep your prized cards safe in transport. The range of colours and finishes is expansive with even an accessory-less version in the Satin Cube available. 
| | |
| --- | --- |
| Build Quality and Toughness  | 10/10 |
| Storage | 76mm - fits any 100 double-sleeved cards apart from extra thick inners.  |
| Security | 9/10 |
| Accessories | ✔️ - will not fit oversized spin-down dice. |
| Price | £12+ |
Recent releases such as the Ultimate Guard Boulder 'n' Tray provide an interesting alternative at a similar price, but it is safe to say that even in 2023 The Satin Tower remains as the gold standard for what a Deck Box should be. This may well be the best Deck Box Ultra Pro ever created.
Related articles