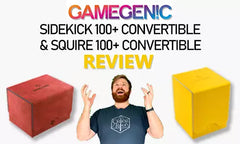 The Gamegenic Sidekick Convertible and Gamegenic Squire Convertible are newcomers to the premium deck box market, looking to challenge such staples as the Ultra Pro Alcove and the Ultimate Guard Sidewinder. With competition this stiff and an array of cheaper options besides that, can these Gamegenic deck boxes make their mark on the market?
The Gamegenic Squire and Sidekick are essentially a portrait and landscape version of the same product, with the same materials and same build quality. Due to the near identical nature of the 2 products, we'll be reviewing them together in this article.
Build quality and toughness
Over the past few years, Gamegenic have established their own style when it comes to deck boxes. A tried and tested recipe of their patented Nexofyber outer and a soft microfibre inner, all wrapped around sturdy cardboard. This is then sewn to create a lovely stitched border on the removable cover, as well as on the outside of the main compartment. While the stitching goes all the way through on the cover it does not on the main compartment.   
The design of these Gamegenic deck boxes is simple, consisting of a storage compartment and a magnetic, removable lid; a nod to the convertible aspect of the boxes. The magnetic lids have in-built creases in them, allowing for some creative ways to set up and present your deck box on the table. The detachable nature of the lids also allow for a slew of mixing and matching possibilities so you can customise your Sidekick or Squire to suit your own tastes.
The Sidekick and Squire side by side. The flexible magnetic lid allows for a multitude of display possibilities - so get creative!
When it comes to toughness, both of these boxes are on par with the strongest board based options on the market. Once assembled, the many layers of thick cardboard combine to create a robust and bend resistant shell, capable of withstanding serious amounts of pressure. However, we must deduct a point here as a board based deck box will never be quite as strong as a thick plastic alternative such as the Ultimate Guard Boulder. A near perfect 9/10 for build quality and toughness.
How many cards does the Gamegenic Sidekick and Squire fit?
As per Gamegenic's description, both the Sidekick and Squire fit 100 double-sleeved cards. A true statement if using Gamegenic's own brand of inner and outer sleeves. However, does this hold true for other brands of sleeves?
To find out, we sleeved up 100 cards in combinations of all widely available inner and outer sleeves and tested their fit into the Gamegenic Squire and Sidekick. With both deck boxes providing an average to poor 69mm of card storage space (the Ultra Pro Alcove offers 74.4mm), we found ourselves struggling to fit some of the thicker outer sleeves such as the Dragon Shield Mattes. For a full breakdown of exactly which sleeves will fit into these Gamegenic deck boxes then please refer to our Deck Box Comparison Tool.
Luckily, if your preferred combination of inner and outer sleeve does not fit into the regular Sidekick and Squire, Gamegenic now manufactures an XL version of both deck boxes, offering the same exceptional build quality, only with a whopping 80mm of storage instead of 69mm. This makes the XL versions some of the most spacious 100+ deck boxes in existence and alleviates any concerns about capacity.
Will these Gamegenic deck boxes keep your cards secure?
Security for the Sidekick and Squire comes entirely from the magnetic closure of the removable covers. To test how strong these magnets are, we filled both deck boxes with 100 double-sleeved cards and commenced the upside down shake test. 
It turns out that these are the strongest magnets we have seen in a deck box, even better than the Ultra Pro Alcove and Dragon Shield Nest. This makes sense when you consider these magnets alone are enough to hold a full deck box in a tilted position which is no easy task. Just by removing and replacing the cover you can feel the strong pull of the magnets.
The lids may feel soft and cuddly but don't be fooled - they pack a magnetic punch.
It's worth noting here that the Squire has a total of 12 magnets whereas the Sidekick only has 8. Surprisingly, this does not seem to make a difference to the strength of the closure and they perform equally well in our shake test.
As strong as the magnets are, the boxes are not as strong as the Ultra Pro Satin Tower or Ultimate Guard Boulder (which use a nub and dimple locking mechanism) and will still give way if enough force is applied. Therefore, we give the Sidekick and Squire a sturdy 8/10 for security.
Is there an accessories compartment?
In the streamlined Sidekick and Squire we don't get any additional space for accessories. If you want room for 100+ cards and accessories then the Watchtower would be Gamegenic's solution for you.
How much do these Gamegenic deck boxes cost?
Gamegenic's RRP is £18.99 although you can normally find them for cheaper than that. At the time of writing, we sell both the Sidekick and Squire for £15.99. The XL versions cost £2 more.
As always, we advise you to do your own research on price as they will vary across stores and also over time.
The convertible aspect of both boxes allow for some weird and whacky combinations.
Summary
In the Sidekick and Squire, Gamegenic have managed to create standout products in a market already crowded with great options. These are wonderfully made deck boxes that look and feel fantastic, offer exceptional protection for your cards, as well as coming in a huge variety of appealing colours. 
| | |
| --- | --- |
| Build Quality and Toughness  | 9/10 |
| Storage | Regular - 69mm, XL - 80mm |
| Security | 8/10 |
| Accessories | ❌ |
| Price | £15+ |
The only fault we can find with these Gamegenic deck boxes is the storage space being on the lower side, but with the addition of the XL versions this is no longer a problem. The only real difference between the Sidekick and Squire themselves is the orientation of the box and that is an entirely preferential choice for the player.
It's safe to say that the deck box market has a new contender and we can't wait to see what Gamegenic can innovate next.
Related articles