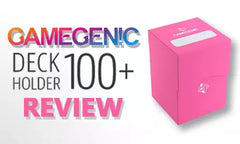 The Deck Holder 100+ is Gamegenic's contender in the battle of the entry level deck boxes. Have they brought anything new to the table or is it more of the same? Let's take a look…
Build quality and toughness
Taking a long hard look at the Gamegenic Deck Holder 100+ we see a familiar construction to the Ultimate Guard Deck Case and Ultra Pro Eclipse PRO Deck Box. It is made from a single sheet of acid-free, non PVC plastic that is folded and heat welded to form the box and lid. 
The robustness of such a design and material choice is understandably poor. Easily bendable when opened or closed and offering only minimal crush protection to the cards within. Providing a small increase in protection is the free 'Flex Card Divider', made from the same plastic, it also gives a slight benefit in organisation.
The Gamegenic Deck Holder comes with a card divider and 'Cobra Neck technology' on the hinge.
The lid of the box is hinged with 'Cobra Neck technology', a series of groves made in sequence to cause a rounded bend, as opposed to the more conventional single fold of other similar boxes. This provides a potentially easier access to the main compartment, with the lid not getting in the way, but also less of a snap-back style securing system.
All in all, the Gamegenic Deck Holder is par for the course. Receiving a 5/10 for build quality and toughness.
Does the Deck Holder 100+ actually hold 100 double-sleeved cards?
When it comes to the act of storing cards, these lower price point deck boxes tend to err more on the larger side, giving us a practical space to put our cards. Unfortunately, Gamegenic didn't get that memo and made the Deck Holder 100+ taller than most but also shallower. 
The resulting internal space is 69mm which is on par with the rest of Gamegenic's range but the smallest entry level plastic deck box we have reviewed. To give context, the Ultra Pro Eclipse PRO offers 75mm of storage space. As it is, only some of the popular inner and outer sleeve pairings outside of Gamegenic's own will fit inside.
To see exactly which combinations of sleeves will fit into this Gamegenic deck box, please refer to our Deck Box Comparison Tool.
How well does this Gamegenic deck box protect your cards?
The method of security for this deck box is a simple, self-locking lid. As previously stated, the lid is attached to the back of the box, as it is made from a single sheet of plastic, and closes around itself neatly. When flipped upside down, the box manages to keep all cards inside without issue.
The flexible hinge of the lid offers slightly less resistance than the Ultra Pro Eclipse and the Ultimate Guard Deck Case.
To ensure we have pushed each deck box's security to the limit, we put each of them through a shake test. This entails filling the box with 100 double sleeved cards and shaking it with increasing intensity. The aim is to identify the force required to shake the box loose to spill its contents. 
Much like the Ultra Pro Eclipse PRO and Ultimate Guard Deck Case, very little agitation was required to dislodge the lid and subsequently empty the cards onto the floor. The 'Cobra Neck' hinge offered slightly less resistance to opening than a single groove hinge, so we found there was a small trade-off between accessibility and security.
Although unable to withstand the lightest of shaking, the lid does hold your cards inside when turned upside down so we give this a 3/10 for security.
Do we have a space for accessories??
Unfortunately not, this is a simple deck box for your cards and cards only. If you're looking for a Gamegenic deck box with accessory storage then check out the Gamegenic Watchtower.
What do you need to pay for a Gamegenic Deck Holder?
We sell the Gamegenic Deck Holder 100+ on our UK TCG store for £2.99. A smidgen more than the Ultimate Guard Deck Case but significantly lower than the Ultra Pro Eclipse PRO. As an added bonus, the free snazzy divider is also sold separately in a pack of 10 for £2 so has some intrinsic value of its own. 
The Deck Holder is available in the full Gamegenic range of colours.
What are our closing thoughts on this Gamegenic deck box?
The Gamegenic Deck Holder 100+ is a fine alternative to the better known Ultra Pro Eclipse PRO and Ultimate Guard Deck Case boxes, but it is nothing new nor special. Similar in materials and price to the other two, it seems as though it's a case of: if it's not broken then don't try and fix it. A perfectly adequate entry level box for those on a budget or not looking for the ultimate protection for expensive cards.
The one area where Gamegenic have tried to set themselves apart is in the shape of the box as well as the 'Cobra Neck technology' of the hinge. While this hinge sounds impressive, we can't say we noticed any significant differences in use. If anything, the reduction in storage space could be a deal breaker if you are looking for something to store 100 double-sleeved cards in sleeves of any brand, no questions asked.
| | |
| --- | --- |
| Build Quality and Toughness  | 5/10 |
| Storage | 69mm - struggles to fit 100 double-sleeved cards in thicker inners/outers  |
| Security | 3/10 |
| Accessories | ❌ |
| Price | £2.99 |
Related articles