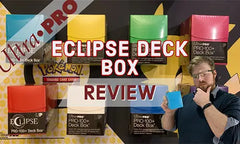 The Ultra Pro Eclipse PRO Deck Box is a 100+ Deck Box from the popular Eclipse range of trading card game products. Coming in at a low price point, does this no frills deck box meet the player's basic requirements, or is it worth investing extra for a more premium alternative? We'll be taking a deep dive in this review to find out. 
Build Quality and Toughness
The Ultra Pro Eclipse Deck Box is made with an archival-safe, non-PVC rigid polypropylene material - essentially meaning it is a safe place to store your prized pieces of cardboard. While the plastic is indeed rigid, it must be noted that it is also thin unlike the thick and sturdy plastic found in the Ultra Pro Satin Cube or the Ultimate Guard Boulder.
The Eclipse Deck Box has a simple design consisting of just a storage compartment with a self-locking lid. The lid itself has no locking mechanism and relies on friction resulting from a precision build to stay locked. When popped open, unless it is held, the lid will snap back downward which can make moving your cards in and out more troublesome than needs be.
Unsurprisingly, the thin plastic is bendable and the fittings holding the deck box together can be torn apart with some force. That being said, we still feel confident the plastic case is strong enough to withstand most reasonable impacts to protect the cards within.
All in all, we give the Eclipse Deck Box a modest 5/10 for Build Quality and Toughness.
A close-up of the interior fittings holding the box together. Unsurprisingly, the rigid yet thin plastic will bend.
How many cards fit in the Eclipse Deck Box?
Ultra Pro themselves describe the Eclipse as being able to fit 110 standard-sized cards in their own Deck Protector sleeves. That sounds like a reasonable claim, however, it is becoming increasingly more common for players to require a 100+ deck box to fit 100 double-sleeved cards. What's more, a deck box should be flexible enough to fit in potentially thicker sleeves of other brands and not just their own. 
That being said, the Eclipse Deck Box offers an impressive 76mm of usable storage, equally matching its Ultra Pro companion the Satin Tower as the 4th most spacious deck box on the market. You can find this data in our detailed Deck Box Comparison Tool, where we also tested the fit of every combination of inner/outer sleeve into the Eclipse and found the 76mm of storage more than capable of storing all but Gamegenic's Extra Thick Inner Sleeves.  
How secure is this Ultra Pro Deck Box?
One of the main requirements for a deck box is to keep your cards safe and secure inside. Having the cards spill out during transportation would be less than ideal, risking damage to the cards and also the annoyance of gathering the cards back into the box.
For the Ultra Pro Eclipse Deck Box, everything depends on the effectiveness of the self-locking lid. To test, we inserted 100 double-sleeved cards into the box, turned it upside down and found that the lid held strong. To say that the lid is held closed by nothing more than friction and a precision build, it is quite impressive.
However, things get dicey when we begin the dreaded upside down shake test. On the very first shake the lid gives way - yikes! The only saving grace is the snap-back lid which does not fully open and can act as a safety net for the cards inside.
The snap-back lid is firmly attached to the body of the box and can stop the cards from spilling out.
Given this, we would not trust the Eclipse Deck Box to keep our most valuable cards or decks safe. If you are using this deck box for transporting your cards, then make sure it is packed well, with little room to move around to avoid spillage. A poor showing and a 3/10 for security. 
Is there room for Accessories?
No, the Eclipse Deck Box was not designed with an accessories compartment. If you are after a reasonably priced Ultra Pro Deck Box with room for accessories then check out the Ultra Pro Satin Tower.
How much does the Ultra Pro Eclipse Deck Box cost?
We are currently selling the Eclipse for £3.75, making it one of the cheapest options on the market. As always, prices differ between vendors and can vary over time so we encourage you to do your own research on price.  
The fantastic range of colours we have come to expect from Ultra Pro's Eclipse range.
Closing Thoughts
Whether the Ultra Pro Eclipse Deck Box is right for you depends on your own needs as a player. If you are looking for something to keep your most valuable cards safe, then there are better and more expensive options out there such as the Ultimate Guard Boulder or the Ultra Pro Satin Cube.
If you are after a simple, no frills deck box to transport bulk cards to and from a casual session at your local game store then this is a great option. The generous storage space, low cost, and huge range of colours all lend well to being an excellent storage solution for players with many pre-built decks. 
Whilst the Ultimate Guard Deck Case is a similar yet cheaper product, the Ultra Pro Eclipse Deck Box is of slightly higher quality, offers a little more space, has no invasive branding, and uses slightly thicker plastic. The choice is yours.
| | |
| --- | --- |
| Build Quality and Toughness  | 5/10 |
| Storage | 76mm - fits any 100 double-sleeved cards apart from extra thick inners.  |
| Security | 3/10 |
| Accessories | ❌ |
| Price | £3.75 |
Related articles