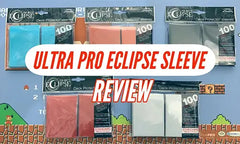 Ultra Pro is the undisputed market leader when it comes to your TCG accessories, and the Eclipse range has become their bread and butter. Today, we take a look at the Gloss as well as the Matte sleeves to find the hidden differences between them, and to see if they are still leading the way in 2023, or if they've been eclipsed by their rivals. 
What are the Ultra Pro Eclipse sleeves?
The Ultra Pro Eclipse sleeves are Ultra Pro's premier sleeve offering, coming in a Glossy version to accentuate colours and foils, or a Matte version to reduce glare during play. Both versions are available in standard trading card size, making them a great MTG or Pokemon sleeve, as well as a small size to accommodate card games such as Yu-Gi-Oh. 
The Eclipse sleeves are 90 microns thick on the clear side, and 120 microns thick on the backs - bang on average for an outer sleeve.
How well do they shuffle?
When it comes to shuffle-feel, we split sleeves into two categories: buttery smooth with some friction and completely smooth without friction. Both of the Eclipse Gloss and Eclipse Matte sleeves fall into the buttery smooth category, with slight friction but not unpleasant to handle. We give the Gloss sleeves a slight edge in this regard, scoring it an 8/10 whereas the Mattes get a respectable 7/10. 
While the scores for shuffle-feel can be very subjective, we believe both sleeves to be good enough and you shouldn't encounter any issues with either.
How strong are the seams?
To test the strength of the seams, we do a stretch test where we pull on both the front and back to see how much force is required to do some damage. 
Both of the Eclipse sleeves performed exceptionally in this category, with a huge amount of effort required to split the seams. In many cases the sleeve simply warped or snapped on the clear front before the seams gave way. These would be very hard to split through day to day sleeving - an easy 10/10 for both the Matte and Gloss.
How durable are the Ultra Pro Eclipse sleeves?
To test the durability of the sleeves, we sleeve up 2 piles of 50 cards: 1 in the Gloss sleeves and 1 in the Matte sleeves. Both piles are then given 1000 rough shuffles where we are actively slamming the cards together with each shuffle, all in an attempt to simulate long term wear and tear in a short space of time.  
The Eclipse sleeves after 1000 rough shuffles. Matte (left) and Gloss (right).
The Eclipse Matte sleeves were among the weakest we have tested, with 11/50 splits, visible damage within the first 100 rough shuffles, and the sleeves essentially unusable by the 200th. We're not sure why the sleeves broke so easily after a strong showing in the stretch test, but this is concerning and definitely something to take into account before buying. 
The Gloss sleeves, however, put up a much better showing, with no splits at all and little visible damage even after 500 shuffles. After 1000 shuffles, we can see some significant fraying of the seams as well as some tired looking corners. For all the in depth data we collected from the shuffle test, please visit our Sleeve Comparison Tool.
Our second test for durability is a simple scratch test to see how easy or difficult it is to mark the sleeve backs. For this one, the results are shown below, and we can see that both Eclipse sleeves were susceptible to marking. Not the best but about average when compared to other outer sleeves.
All in all, we score the Eclipse Matte sleeves a weak 4/10 for durability and the Eclipse Gloss sleeves a very ordinary 6/10.
Both the Matte and Gloss Eclipse sleeves marked fairly easily.
Are they good for double-sleeving?
Next up, we take a look at how easy the Eclipse sleeves are to double-sleeve with. When it comes to double-sleeving, we consider a fit as good when the inner sleeved card slides effortlessly into the outer sleeve with no issues. We consider a fit as bad if the card slips out of the inner sleeve when being inserted into the outer sleeve.
While Ultra Pro and most manufacturers recommend their own inner sleeves be combined with their own outer sleeves, it's unrealistic to expect no mixing and matching to happen with so many different options available on the market.
Therefore, we tested both the Eclipse Gloss and Matte sleeves with 7 different varieties of inner sleeve, meaning 700 sleeving attempts for each variant, to see how many bad fits would occur. After hours of sleeving and un-sleeving, the Gloss sleeves ended with a frustratingly high 156/700 bad fits, while the Mattes did significantly better with 68/700 bad fits. When compared to all other outer sleeves we have tested, this gives the Gloss sleeves a poor 5/10 and the Matte sleeves a satisfactory 7/10 for double-sleeving. 
You can find more detailed information from this testing in our Ultimate Double-sleeving Guide.
How clear are the Ultra Pro Eclipse sleeves?
For our clarity test, we half insert a foil card into both sleeves and see if there is any visible dulling of the foiling or colours of the card.
Unsurprisingly, the Matte Eclipse sleeves perform very poorly if clarity is what you're looking for. Not designed for this purpose, but we score it a 2/10. Thankfully, the Gloss Eclipse sleeves performed much better and score a perfect 10/10 for clearness with no dulling of foils at all
The Eclipse Gloss sleeves (left) are perfectly clear, whereas the Eclipse Matte sleeves (right) dull the foil significantly.
Are the backs opaque?
This is perhaps where the Ultra Pro Eclipse sleeves excel the most. Both the Gloss and Matte sleeves are completely opaque due to the black interior acting as a barrier, no matter the shade of the outer colour. Whether you are playing casually or competing in tournaments, opacity will not be an issue. 10/10.
How much do the Eclipse sleeves cost?
The RRP of the Eclipse sleeves is £11.99 but can normally be found for cheaper. We sell them for £8.75 but, even at this discounted cost, the Ultra Pro Eclipse sleeves are still among the most expensive outer sleeves out there, with only the Ultimate Guard Katanas costing more.  
The Eclipse sleeves come in a fantastic range of colours - 12 in total.
Closing thoughts
The hefty RRP of £11.99 puts the Eclipse sleeves in a tricky spot. At this price point they would not be our first pick for the best Gloss sleeve. If we wanted a great premium Gloss sleeve we would shell out the extra few £s and go with the Ultimate Guard Katanas. If we wanted a cheap Gloss sleeve to simply display foils in a folder then the Gamegenic Primes take it.
The Eclipse Matte sleeves are more closely contested, with the Dragon Shield Mattes being only marginally cheaper and the new Dual Mattes being around the same cost. Which of these you choose will likely come down to personal preferences and what exactly you are looking for from your outer sleeve. To help you decide just that, we created a condensed Sleeve Comparison Tool.
| | | |
| --- | --- | --- |
|   | Eclipse Matte | Eclipse Gloss |
| Shuffle Feel | 7/10 | 8/10 |
| Seam Strength | 10/10 | 10/10 |
| Durability | 4/10 | 6/10 |
| Clarity | 2/10 | 10/10 |
| Opacity | 10/10 | 10/10 |
| Double-sleeving | 7/10 | 5/10 |
| Price | £8.75 | £8.75 |
All in all, the Eclipse sleeves are not the best around but also by no means a bad sleeve - far from it. Even with some clear weaknesses, such as durability with the Matte sleeves and double-sleeving with the Gloss sleeves, both sleeves are above par and more than usable for a night at your local game store. If you can find them at a good price, or if one of the bold Eclipse colours catches your eye, then they are definitely worth the pick up. 
Related articles