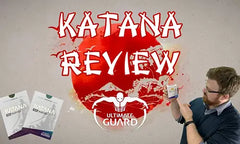 Ultimate Guard claims their flagship Katana sleeves will protect your cards like a Samurai, honouring the tradition of Japanese craftsmanship. A bold statement, but will they samu-rise to the occasion or lack a sharp edge when put through our stringent tests? We'll find out in this review!
What are Ultimate Guard Katana sleeves?
The Katana sleeves are Ultimate Guard's premium outer sleeve, sitting atop a range of options designed with every budget in mind. With Ultimate Guard's new 'budget' Cortex sleeves being a good sleeve in their own right, the Katanas have a tough task ahead to justify their higher price. Not to be confused with the Katana INNER sleeves of the same name.
As expected, they are acid free, no PVC, and come in Standard size (63mm x 88mm) for games such as Pokemon and Magic: The Gathering, as well as a Japanese card game size (59mm x 86mm) for games such as Yu-Gi-Oh. The front (clear) side is 90 microns thick whereas the opaque back measures 120 microns - about average thickness for an outer sleeve.
How is the shuffle feel?
The Katana sleeves are an absolute joy to shuffle with. We can only describe the shuffle feel as 'like cutting through soft butter' and unlike any other sleeve we have tested. While other 'buttery' shuffle-feel sleeves can feel sticky at times, the Katanas manage to find the perfect amount of friction to prevent a deck from slipping from your hands yet still remain an effortless shuffle. We can expect the shuffle feel to get worse over time, but we have not noticed any significant changes throughout the constant use in our testing. A great start, and an exceptional 10/10 for shuffle feel.
How strong are the seams?
One of the most important factors to consider when choosing an outer sleeve is how strong and durable the seams are. There's nothing worse than having your sleeves split during a shuffle, or worse, during the sleeving process. 
With that in mind, we start with a basic stretch test to see how the Katana sleeves hold up. The stretch test is where we use 2 fingers to stretch the sleeve and see how much force is required to split the seams. The Katanas performed extremely well in this regard, with a lot of force required to do any damage. In many cases, the seams simply did not give in and the sleeves just warped or snapped on the front side. 
For our next seam-strength test, we purposefully catch the open corners of the Katana sleeves with inner sleeved cards to see how they cope with the normal stresses of sleeving and un-sleeving. Again, the Katanas perform exceptionally well with no seams splitting at all this way.
A near flawless showing and some of the strongest seams we have ever tested - another 10/10.
How durable are the Katana sleeves?
For durability testing, we sleeve up 50 cards in the Katana sleeves and give them 1000 rough shuffles. During this test, we are really trying to stress the seams with harsh treatment in order to simulate prolonged usage. After the 1000 shuffles, we found 12 of them had split but, otherwise, the rest were relatively OK. Some scuffing and marks are noticeable, but compared to most outer sleeves we have tested, the corners remained sharp and the edges clean.
The Katana sleeves before and after 1000 rough shuffles.
Another test we carry out for durability is to see how easy the sleeves are to mark. This is particularly important for competitive players who need sleeves to remain completely unblemished and unidentifiable from one another. An easily marked outer sleeve simply will not do. Even for the casual player, no one wants a sleeve that looks worn down and scuffed up after a game or two!
To this end, we give the backs of the Katana sleeves a vigorous scratch with our nails to see the extent of lasting damage we could leave behind.
From left to right: Ultimate Guard Supreme UX, Ultimate Guard Cortex Matte, Ultimate Guard Katana.
As we can see above, the textured back of the Katanas are a lot harder to mark than most other outer sleeves, and any marks that do stick are a lot harder to see without the right light or angle. Unsurprisingly, every sleeve will mark if scratched heavily - they are just thin plastic after all. The key is that the sleeve can handle day to day play and come out reasonably unscathed and, in that regard, the Katanas are among the toughest around.
The only area of durability where we wouldn't rank the Katanas as #1 would be in the strength of the corners. While they are not as strong as those found on the Dragon Shield Matte sleeves, there is also less pointed-corner-pain while shuffling, and you'll still get a lot of use out of them before any signs of wear start to show.
Outside of just simulating durability, we can say that through our extensive use of the Katana sleeves in our reviews, that they are extremely strong and long lasting. The 12 splits in our rough shuffle test is on the high end, but we are really trying to do some damage during the test. We are confident that the Katanas can handle regular shuffling for a long time with little to no spoiling and give a near perfect 9/10 for durability.
How clear are the Ultimate Guard Katana sleeves?
For clarity, we take a foil card and insert it halfway into the Katana sleeve to see if there is any dulling of the colours or shine. As we can see below, the Katana sleeves pass with flying colours and holographic cards lose none of their potency. This is on par with other high clarity outer sleeves. Yet another 10/10.
The Katana sleeves are perfectly clear, meaning a great display for foils and colours in general.
Are the backs opaque?
For opacity, we insert a card fully into the sleeve and use a bright light to see if the backs are at all translucent. Here, we found that even the yellow Katanas, which are one of the lightest shades available, are fully opaque. We give a 10/10 for opacity and confidently say that these will not let you down in a competitive setting. That being said, it's always good to check with your tournament organiser to see which sleeves are recommended for the event.
Are they easy to double-sleeve with?
The Katanas are on the tighter side for an outer sleeve which is instantly noticeable when double-sleeving. The tight fit can create issues by causing the card to slip out of the inner sleeve when being inserted into the outer sleeve. After combining the Katanas with 700 cards sleeved in 7 different inner sleeves, we were pleasantly surprised to find the results to be better than expected.
The main fit-issues occurred with the Dragon Shield Inners which resulted in 16/100 times where the card did not want to stay inside the inner sleeve. This will have been caused by a combination of the Katana's relative tightness for an outer sleeve and the Dragon Shield Perfect Fit's relative looseness for an inner sleeve.
While not as trouble free as the Dragon Shield Mattes or Gamegenic Primes, the Katanas were certainly not the worst we've tested and we can give them a strong 8/10 for double-sleeving in relation to other popular brands of outer sleeves.
For a detailed breakdown of our testing, you can find the results in our Ultimate Double Sleeving Guide.
How much do the Ultimate Guard Katana sleeves cost?
The RRP for Katana sleeves is £10.69 and we sell them on our website here. As always, prices do vary depending on where you are and the local currency. In general, the cost price of Katanas from manufacturers and distributors is the highest of any outer sleeve so the retail price will reflect this as well.
The Katanas are available in a variety of eye popping colours.
Closing thoughts
With industry leading toughness, great durability, a fantastic shuffle feel, and fully opaque backs, the Ultimate Guard Katanas are our personal favourites and our pick for the best outer sleeve available on the market. 
| | |
| --- | --- |
| Shuffle Feel | 10/10 |
| Seam Strength | 10/10 |
| Durability | 9/10 |
| Clarity | 10/10 |
| Opacity | 10/10 |
| Double-sleeving | 8/10 |
| Price | £10.69 |
However, with this premium performance comes a premium price tag to match. At over £10, the Katanas are safely among the most expensive sleeves available and may be hard to justify for those on a budget. Whether this extra performance is worth the money is ultimately up to you to decide based on your own needs.
If you are a frequent player or competitor requiring a durable sleeve with easy shuffling then there are none better. The extra investment will pay for itself through not having to crack a new pack of outers every time you play an event. On the other hand, if you are simply looking for a sleeve to add an extra layer of protection to cards before inserting into a binder, then there are many cheaper options out there that will do the same job.
The Katana sleeves come in a large variety of appealing colours and the only real criticism we have for the Katana range is the lack of a matte version. Until then, players looking for a sleeve to reduce glare and eye strain during play will have to look elsewhere for their ideal solution. Rest assured, if or when a matte version is made, we'll be the first to tell you if they are just as good.
If you want to compare these Katana scores with other outer sleeves side-by-side, please visit our Sleeve Comparison Tool.
Related articles