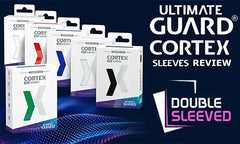 We're always on the lookout for the latest products to review and Ultimate Guard's new Cortex sleeves have certainly caught our eye. "Designed for daily use, with high-quality materials and an additional focus on value", we'll see if they live up to this mandate and where they fit into the crowded sleeve marketplace.  
What are Ultimate Guard Cortex Sleeves?
Nestling in between Ultimate Guard's cheapest Supreme sleeves and Ultimate Guard's premium Katana sleeves, the Cortex offering is an attempted synthesis between quality and value.
Not only this, but there are 2 flavours of Cortex to sink your teeth into - Regular and Matte. Both Cortex versions are available in a standard card size (think Pokemon and Magic the Gathering) as well as a Japanese card game size (Yu-Gi-Oh). 
The Regulars are 80 microns thick on the front side and 130 microns thick on the back, whereas the Mattes are 90 on the front and 120 on the back. All normal numbers for an outer sleeve.
Are they easy to double-sleeve with?
To test how well the Cortex sleeves double-sleeve, we combined both the Regular and Matte versions with 100 of 7 different inner sleeves. This means a total of 700 ins and outs for each Cortex variant! That is a lot of sleeving and un-sleeving and a lot of information. The condensed results are as follows:
Cortex: 18/700 bad fits
Cortex Matte: 106/700 bad fits
We consider a fit bad when the card slips out of the inner sleeve while being pushed into the outer sleeve.
This puts the regular Cortex sleeves as one of the easiest to double-sleeve with and the Cortex Matte sleeves as one of the worst we have tested! A stark difference between the two, and with 1 out of every 7 sleeve attempts for the Mattes requiring fixing and fidgeting to succeed, this may be too much of an annoyance for some players.
For a full breakdown of our Cortex sleeve results as well as our findings for many other sleeves, please visit our Ultimate Double Sleeving Guide.
How is the shuffle-feel?
When it comes to the way sleeves feel when shuffled, it can be a very subjective thing. We'll do our best to describe the shuffle feel and give it a score based on our experience with all of the other sleeves we have tested. With this in mind, we believe there are 2 main types of outer sleeve when it comes to shuffle feel - buttery smooth and resistance free.
The slight friction of a shinier and smoother sleeve lends to this 'buttery smooth' feel and that was prevalent with both varieties of the Cortex sleeve. We appreciate that even with this explanation, it can be hard to visualise. Everyone will no doubt have their own views and preferences on how a sleeve shuffles but, rest assured, both Cortex sleeves are standard enough and shouldn't cause anyone any issues. We score them both a respectable 7/10 for shuffle-feel.
The Cortex sleeves are only available in several colours at the time of writing. Not as much variety as other outer sleeves.
Seam Strength
To evaluate seam strength, we grab each side of the sleeve and pull until either the plastic warps or the seams split. We can then determine the amount of force required to split the sleeve and compare it to other sleeves as reference. 
Interestingly, the results for this test differed wildly between the Cortex and Cortex Matte sleeves. For the Matte version, it was incredible and quite possibly the toughest seams we have ever tested. Very few splits occurred and only after an unbelievable amount of force being exerted. 

The same couldn't be said for the regular Cortex sleeves. While they were still tougher than average, they pale in comparison to their Matte counterparts. We rate the regular Cortex sleeves a strong 8/10, and the Cortex Matte sleeves an impregnable 10/10 for seam strength.
How durable are the Ultimate Guard Cortex sleeves?
Next up, we have our durability tests, with the first one being 1000 'rough' shuffles. We say 'rough' shuffles because, after double-sleeving the cards, we are actively slamming these sleeves into each other with the intention of simulating long term use in a short amount of time.
An impressive showing from the Cortex Matte sleeves (green) compared with the non-mattes (red).
Just as with the stretch test, the Cortex Matte sleeves out shone the non-matte version. Even after 1000 rough shuffles these sleeves looked near untouched -  slight bending on the corners and some minor scuffs but nothing beyond basic wear and tear.  
The regular Cortex sleeves lasted 300 shuffles before visible signs of wear began to show. From this point onwards, it was noticeable in the shuffle-feel that dents, fraying, and nooks were all over the sleeves. The thickness and weakness of the seams was apparent. It is worth noting that, while no sleeves actually split, these would definitely qualify as 'marked' in tournament play.
Our second durability test consists of a simple scratch test to see how easy it is to mark the backs of the sleeves. Both sets of Cortex sleeves marked quite easily in this one, among the easiest to mark of any outer sleeve we tested. Fine for the casual player, but serious competitors may need a more resistant option such as the Ultimate Guard Katana sleeves.
Both the Ultimate Guard Cortex Matte and Cortex Regular are marked fairly easily.
Overall, we give the regular Cortex Matte sleeves a strong 8/10 (great seams but let down by the easy to mark backs) and the regular Cortex sleeves a solid 7/10 for durability.  
Are the Cortex sleeves clear?
The Regular Cortex sleeves will be exactly what you are looking for if shiny foils and crisp colours are essential to you. Great appearance and as clear as any other glossy outer sleeve. 10/10.
As expected, the Cortex Matte sleeves dull the foiling completely. These are not intended for displaying foils but to reduce glare during gameplay.
The Cortex sleeves are super clear (left & middle), whereas the Cortex Mattes (right) dull the shine and reflections.
How opaque are the sleeve backs?
The serious players among you will be glad to hear that both Cortex variants are opaque. When held to a bright light, only the silhouette of the cards can be seen, none of the card details or any other incriminating information. We score this a brilliant 8/10, missing only a couple of marks for sleeves that do not even show the silhouette of the card inside. 
That being said, the opacity of sleeves do change depending on their colour - we have not tested and cannot comment on every single one. If in doubt, pick a darker shade or use a smoke-backed inner sleeve. It's also worth checking with your tournament organiser if they have any set rules on allowed sleeves before making your sleeving decision.
How much do the Ultimate Guard Cortex sleeves cost?
With a self proclaimed focus on value, we would expect these Ultimate Guard sleeves to be on the lower end of the price scale - and we were not disappointed. At £6.25 these are some of the cheapest outer sleeves we sell.
Summary
The Cortex sleeves are not the best sleeve on the market but they are certainly not the worst. Made with the average player in mind who doesn't attend tournaments, but attends local game store events or plays with friends at home, the Cortex sleeves fit this audience perfectly. 
While both the matte and regular versions fall under the same Cortex umbrella, there are significant differences between the two in durability and ease of double-sleeving. That being said, both versions are fit for use and the deciding factor should always be the matte vs shiny finish of the display.
With this new Cortex range, Ultimate Guard have managed to improve upon their Supreme sleeves without breaking the bank, and they should certainly be a consideration on your outer sleeve shortlist.
| | | |
| --- | --- | --- |
|   | Cortex | Cortex Matte |
| Shuffle Feel | 7/10 | 7/10 |
| Seam Strength | 8/10 | 10/10 |
| Durability | 7/10 | 8/10 |
| Clarity | 10/10 | 2/10 |
| Opacity | 8/10 | 8/10 |
| Double-sleeving | 9/10 | 6/10 |
| Price | £6.25 | £6.25 |
You can see how the Cortex sleeves shape up against the competition in all the key metrics over at our side-by-side Card Sleeve Comparison Tool.
Related articles