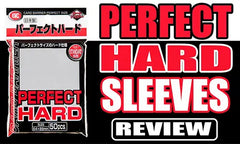 KMC, best known for their popular 'Perfect Size' inner sleeves, have a number of other products you may not have come across. In this review, we take a look at the KMC Perfect Hard inner sleeves, KMC's attempt to satisfy those individuals that put maximising protection above all else. Will these inner sleeves render the thinner, softer sleeves pointless? Is the extra thickness perfect or hard-ly noticeable?
What are the KMC Perfect Hards?
The KMC Perfect Hards are an inner sleeve of increased thickness and rigidity. Created as an alternative to their already popular Perfect Size sleeves, but with twice the thickness (100 microns), in an attempt to provide greater card protection.
The Perfect Hard sleeves measure 89mm x 64mm for standard sized trading cards such as Pokemon cards and Magic cards. Even though they are designed for standard sized trading cards, we must mention early that these sleeves are very tight. Not as tight as the Gamegenic Thick Inner Sleeves which are borderline unusable, but tight enough to be a cause for concern. But, more on that below.
How strong are the seams?
As your last line of defence against external contamination, inner sleeves don't need to take the brunt of shuffling but still need to be strong enough to offer some resistance to splitting. There is nothing worse than accidentally splitting a sleeve and finding you are one short for your deck.
The KMC Perfect Hard inner sleeves are designed with the main purpose of being tougher and more resilient. To test this, we performed our 2 finger stretch test. This is where we use 2 fingers to pull on either side of the sleeve and see how much effort is required to rip the sleeve. Our scores given are more generous than those for the outer sleeves, as the main thing we're looking for is enough resistance to signal it will not split easily when sleeving.
Although far from the worst we have tested, the result was not a good one. Without much effort, we split each sleeve on one side. It certainly wasn't 'perfectly hard' to rip these sleeves down the seam!
When comparing the Perfect Hard inner sleeves to other inner sleeves on the market, we award them a middling 6/10 for their seam strength.
100 cards sleeved in the KMC Perfect Hards (left), Dragon Shield Sealables (middle), and KMC Perfect Fits (right).
How well do they double-sleeve?
To test double-sleeving, we sleeved up 100 cards and then proceeded to insert these into a range of 13 different outer sleeves, one at a time. When doing this, we assess the fit and classify them as good or bad fits.
A good fit is where the inner sleeve slots nicely into the outer sleeve with no issues. A bad fit is where the card slips out of the inner sleeve whilst being inserted into the outer sleeve, normally caused by an overly loose inner sleeve or an overly tight outer sleeve.
Once all 1300 outer sleeves had been tried and classified, our bad fit score was 344/1300. This is the worst result we have ever seen when testing an inner sleeve. Normally, a tight fitting inner sleeve results in incredibly easy double-sleeving (see our Ultra Pro PRO-Fit review), but the thickness of the KMC Perfect Hards means that the fit into the outer sleeve is also a tight one. Even with looser outer sleeves, we see a recurring issue of the card being pressured out of the inner sleeve when being squeezed into the outer layer. 
All this results in a very frustrating and unpleasant double-sleeving experience, and one we can give 3/10 at best.
Are these inner sleeves clear?
Foils in the Perfect Hard sleeves look as good as expected. No dulling, but definitely a noticeable difference to the eye compared to sleeveless. Even with this said, any card would look fine within these sleeves.
A 10/10 for the Perfect Hard inner sleeve's foil clarity.
The extra thickness does not dull the shine of cards in the KMC Perfect Hard sleeves.
How secure are the KMC Perfect Hard sleeves?
When testing the security of sleeves we do the water test. This is an opportunity to check that the inner sleeve is capable of keeping all water away from the card. To do this, we double sleeve a card inside the Perfect Hard inner sleeve and an outer sleeve. We then submerge the sleeved card into a bowl of water for 5-10 seconds, remove it, and do our best to dab the water from the sleeve (much like you would do if you spilled water onto your own cards).
It is always a relief when we remove the cards from the sleeve and have no water damage, as was the case here. There are no standard inner sleeves that have failed the water test so, although reassuring, this result is not surprising.
A simple pass for the water test and overall security.
How much do they cost?
Things get tricky when it comes to the price of the KMC Perfect Hards as they are not widely available through distribution channels in the UK. To get our hands on them, we had to buy directly through KMC on a major marketplace at £4.99 for a pack of 50. This would put the effective price for 100 sleeves at a whopping £9.98, the highest of any inner sleeve we are aware of. 
It is worth noting that in other areas of the world, these sleeves may be more widely available and significantly cheaper, and we always encourage you to do your own research on your local prices.
Closing thoughts
The KMC Perfect Hard inner sleeves, much like other 'hard' or 'thick' inner sleeves we have tested, fall into a doomed 'increased protection' category. They are twice as thick as a regular inner sleeve yet they need to maintain the same dimensions to fit into all standard sized outer sleeves to remain useful. As you can probably guess, something doesn't add up.
The space has to come from somewhere and it comes in the form of a very tight fit for the card - one which may cause bending. The space is also taken in the outer dimensions of the inner sleeve, instantly noticeable when inserting into an outer sleeve. This is evident in the disastrous double-sleeving test results. To add to this, the Perfect Hards combined with any outer sleeve will struggle to fit into most deck boxes on the market. For exact measurements and to see which deck boxes will accommodate the Perfect Hards, please visit our Deck Box Comparison Tool.
| | |
| --- | --- |
| Card Fit | Very Tight |
| Seam Strength | 6/10 |
| Double-Sleeving | 3/10 |
| Clarity | 10/10 |
| Water Test | ✔️ Pass |
| Price | £9.98 |
Put all of this together and the KMC Perfect Hards are a contradiction unto themselves. While the Perfect Hards are designed for extra thickness and extra protection, the very nature of the sleeve is more likely to damage and bend the card than to protect it. Until a manufacturer creates a full range of size appropriate products to accommodate the extra thickness, we simply do not see these thick inners having any utility.
Whilst clarity and security were in line with expectations, the standard of inner sleeves across multiple brands is so high that any drawbacks at all outweigh these minor positives.
The final nail in the coffin for us, in the UK, is the price. A slight overseas premium is to be expected, but at over three times as costly as some of our favourite inner sleeves, it is far from reasonable. Our advice? Avoid extra thick inner sleeves in general and look for a more readily available alternative. For those looking for the ultimate protection, the Dragon Shield Sealables and Gamegenic Closables are both superior options with a design that works.
Related articles