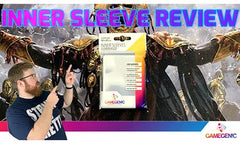 For years the inner sleeve market has been dominated by KMC, Ultra Pro, and Dragon Shield. Enter Gamegenic and their rather simply named 'Inner Sleeves'. Can these sleeves disrupt the established leaders and prove to be the newest go-to inner sleeve of choice?
What are the Gamegenic Inner Sleeves?
The Gamegenic Inner Sleeves are, you guessed it, Gamegenic's very own inner sleeve product. They are 50 microns thick on each side which is very normal for an inner sleeve. 
At 64 x 89 mm they are sized perfectly for all standard trading cards such as Pokemon cards and MTG cards. In practice, we find a good fit around the card, not as loose as the Dragon Shield Perfect Fits, but also not as tight as the Ultra Pro PRO-Fits. We like it! Unfortunately, there is currently no small size for games such as Yugioh.
Are the seams strong enough?
To test the strength of the seams, we do a very simple stretch test to see how easy or difficult they are to split. Due to the thin nature of inner sleeves, we are not expecting them to put up as much of a fight as outer sleeves, they just need to be strong enough to not split during the sleeving process.
Imagine our shock when we pulled on these unassuming inner sleeves and found them incredibly well made and tougher to split than most outer sleeves! The plastic around the seams consistently warped before the sleeves would split, taking a lot of effort to do so. This strength is further confirmed when we sleeved up a deck of 100 cards and found no issues with splitting whatsoever.
A fantastic showing and 9/10 for seam strength.
How well do they double-sleeve?
So, the seams are near indestructible, but how well do the Gamegenic Inner Sleeves double-sleeve?
In order to test double-sleeving, we have one of our most comprehensive tests. After sleeving up 100 cards in the Gamegenic Inners, we go on to test their fit into 13 different outer sleeves, resulting in 1300 sleeving attempts. We then see how many of the 1300 sleeving attempts are bad, meaning when the card slips out of the inner sleeve when being pushed into the outer sleeve.
After many hours of sleeving and un-sleeving, we found a bad fit rate of just 78/1300. This is better than the Dragon Shield Perfect Fits, KMC Perfect Size Inners, Vault X Exact Fits, and only trailing behind the Ultra Pro PRO-Fits for this metric.
Not too shabby and enough to bag a strong 8/10 for double-sleeving. For a full breakdown of the results, visit our Ultimate Double-Sleeving Guide.
The fit of the Gamegenic Inners is just right. Not too tight and not too loose.
How clear are the Gamegenic Inner Sleeves?
As very thin bits of clear plastic, we would expect an inner sleeve to be perfectly clear. You'll be glad to hear that this is exactly what the Gamegenic Inner Sleeves are. No issues, and a perfect 10/10 for clarity, so you can sleeve up your prettiest foils without worry.
Foils half inserted into the Gamegenic Inner Sleeves showing no dulling at all.
Will the Gamegenic Inners protect your cards effectively?
As the entire point of double-sleeving is to add an extra layer of protection, you could argue that this is the most important test of all.
To find our answer, we plunge a handful of cards sleeved up in the Gamegenic Inners and a variety of outer sleeves into a bowl of water. After 10 seconds have passed, we carefully pat the sleeves dry and un-sleeve for the moment of truth. Once again, it's good news with no water able to make its way to the exposed edge of the card. A pass with flying colours.
How much do the Gamegenic Inners cost?
The Gamegenic Inner Sleeves are one of the lowest priced inner sleeves available. With an RRP of just £2.99, they are matched only by the Ultra Pros in value. You can find them in our store for £2.95 here.
Our Summary
In closing, we think the Gamegenic Inner Sleeves are fantastic. Exceptional. We cannot say enough good things about them and, in one of the most competitive product markets out there (after all, how different can a simple inner sleeve be from the next?), Gamegenic has managed to create something that stands out.
Incredibly strong, perfectly clear, great fitting for all standard cards, good ease of double-sleeving, and all at a market low price of £2.99! What more could you want? We would highly recommend all players to consider the Gamegenic Inner Sleeves when making their next purchase.
| | |
| --- | --- |
| Card Fit | Regular |
| Seam Strength | 9/10 |
| Double-Sleeving | 8/10 |
| Clarity | 10/10 |
| Water Test | ✔️ Pass |
| Price | £2.99 |
To compare these ratings to other inner sleeves we've reviewed, see our Sleeve Comparison Tool.
Related articles