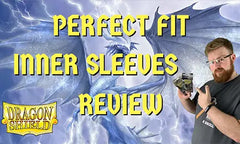 If you are into TCGs then you have probably heard of Dragon Shield and their famed outer sleeves, but little can be found about their lesser known Perfect Fit inner sleeves. We aim to change that with this review and take a closer look to see if they are worthy of the same recognition. Let's get into it... 
What are Dragon Shield Perfect Fit inner sleeves?
Dragon Shield Perfect Fit inner sleeves are - you guessed it - an inner sleeve designed to be the inner layer when double-sleeving your cards. If you are unfamiliar with such terms then taking a look at our Ultimate Double-sleeving Guide should explain most things. 
The Perfect Fit inners fit all standard sized cards measuring 63x88 mm, meaning yay for Pokemon and Magic: The Gathering but nay for Yu-Gi-Oh cards. The sleeves are 60 microns thick on each side, making them one of the thickest regular inner sleeves available. We would consider the fight around the card to be on the loose side for an inner sleeve. Most players love this fit as they can be sure that no pressure is being applied to their cards through over-tightness. The downside of such a loose fit is it can make double-sleeving more difficult, but more on that later.
The Perfect Fits come in the standard clear version and also a special smoke-backed version with the front remaining clear. The Perfect Fit Smoke sleeves are designed for serious players who need peace of mind that their sleeve backs are fully opaque and tournament legal. Highly useful for fixing some overly translucent outer sleeves!
The Perfect Fits also come in a side-loading version but we would not recommend using a side-loading inner sleeve of any brand. We'll solely be looking at the top-loading versions in this review.
The Perfect Fits come in a standard Clear version as well as a Smoke version.
How strong are the seams?
To test the strength of the seams we do a simple stretch test where we use 2 fingers to pull the sleeve apart and see how much resistance is there. Keep in mind that inner sleeves are very thin sheets of plastic and will all tear when ripped. The main thing we're looking for is the sleeve to be strong enough to not split during the sleeving process.
With that in mind, the Dragon Shield Perfect Fit inners perform nicely and offer a good amount of resistance before splitting. As well as this, in our extensive use of the Perfect Fits in our reviews and articles, the seams tearing during sleeving has not been an issue. We can give them a perfectly adequate 7/10 for seam strength.
How well do they double-sleeve?
It goes without saying that one, if not the main, thing to look for in an inner sleeve is how well it double-sleeves. To find the answer, we tested the Dragon Shield Perfect Fits with 13 different outer sleeves, meaning 1300 sleeves and un-sleeves! The result of this test being 84/1300 times the card slipped out of the inner sleeve when inserting into an outer sleeve.  
The Perfect Fits are relatively large for an inner sleeve which can lead to the card slipping out during double-sleeving.
This puts the Perfect Fits somewhere in the middle of the pack when it comes to ease of double-sleeving, with the main issues arising while sleeving with a tight outer sleeve. This is due to the Perfect Fit's relatively loose fit around the card, making it more prone to be pushed out if the squeeze into the outer sleeve is a tight one. 
Still, 84/1300 is not bad at all and with a little tinkering, there are no real issues. Another solid 7/10 score for double-sleeving.
Are the Perfect Fits clear?
If you are a lover of foil cards then the last thing you need is a pesky sleeve dulling their (and your) shine! We have a simple test for clarity - by inserting a holographic card halfway into the sleeve and seeing clearly if there is a dulling of the foil.  
As we can see in the image below, the Dragon Shield Perfect Fits suffer from no clarity issues with foils popping and shining inside the sleeve. 10/10.
The Perfect Fits are super clear meaning no dulling of colours or foils.
Will the Dragon Shield Perfect Fits protect my cards?
Next up we have one of our more extreme tests. To see just how secure the inner sleeve is at protecting from liquids, we insert it into several different outer sleeves and submerge them underwater for 10 seconds. This is certainly overkill but if it can survive this, it can surely survive a wayward spilt drink.
After removing the cards from the water, we carefully pat them dry to avoid transferring the water deeper into the sleeves ourselves. Once dry, we un-sleeve and find some perfectly dry and intact trading cards, making sure to check the most exposed corners in detail. It's just a pass or fail for this test and the Perfect Fits pass with ease.
Please note that we're looking at the top-loading Perfect Fits in this review and we do not recommend using a side-loading inner sleeve as they expose one of the top corners to liquids.
Price
Lastly, we take a look at the price of the Perfect Fit inners. With an RRP of £4.99 to £5.49 depending on where you look (how does that work?!), the Perfect Fits are on the higher end for a regular inner sleeve. We currently sell them in our store for £4.25.  
Closing thoughts
Well, there you have it. The Dragon Shield Perfect Fit top-loading inners are a fantastic inner sleeve, fulfilling all the purposes a good inner sleeve should, and even comes in a smoke-backed version to counteract translucent outer sleeves. 
The main thing that separates the Perfect Fits from most other inner sleeves is the thickness of the sleeve itself. At 60 microns, they are one of the thickest available and ideal for those looking for the heaviest duty protection for their valued cards. 
The downside to this extra thickness is it can be troublesome to fit a 100 card, double-sleeved deck into some deck boxes. But, fear not - we have you covered! If you are unsure if these sleeves will indeed fit into your preferred deck box, then you can check in our handy Deck Box Comparison Tool for all you need to know.
The Perfect Fits do cost a little more than other top inner sleeves such as the Ultra Pro PRO-Fits and the Gamegenic Inners, but if the extra thickness is what you're looking for, then these are the perfect fit for you.
| | |
| --- | --- |
| Card Fit | Regular - Loose |
| Seam Strength  | 7/10 |
| Double-sleeving | 7/10  |
| Clarity | 10/10 |
| Water Test | ✔️ - Pass |
| Price | £4.25 |
Related articles