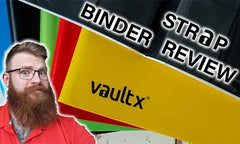 Vault X make some of the most popular premium binders on the market, specialising in unique set-themed Pokemon binders. However, not everyone needs or wants a fancy schmancy binder just to fill with 300 commons and uncommons (speaking from experience). So is Vault X's budget Strap Binder X-actly what we want, or will it just make us cross?
What is the Vault X Strap Binder?
Described on Vault X's website as a "high quality trading card binder", this binder range is an industry-standard design that fits the brief of storing and protecting cards without breaking the bank. Available in 4, 9 and 12-pocket sizes, capable of storing 160, 360 and 480 cards respectively, you are sure to find an option to suit your needs.
Within this review we will be looking specifically at the 9-pocket option. Most comments and insights given will be relevant across all sizes, but there will be natural differences in areas such as bendability, security and price that we will do our best to highlight even if we haven't directly tested the other sizes.
Build quality and materials
The cover of the Vault X Strap Binder is made from a piece of thin, flexible, plastic that is reinforced with an additional layer of plastic on the front and back covers. The pages inside feature clear pockets with perforated edges for an added level of flexibility. The binder is then fastened by a flat elasticated strap, cleverly hidden within the 2 layers of plastic on the back cover.
The quality of the plastic cover is indistinguishable from the material used on the Ultra Pro Eclipse Binder and the Gamegenic Casual Album, and can be described as 'basic but functional', offering at least some barrier to outside forces. The strap will hold the binder closed in most reasonable circumstances, but don't expect it to offer much resistance if put under serious stress. The design of the pages inside is once again what you would expect from a budget binder: perfectly functionable but breaks no new ground and takes no risks.
Overall we found the quality to be good, the materials to be fair, and the construction to be sound. A simple design with low cost materials, executed well for a 5/10.
The materials used are not premium, but the end result is a well put together binder.
How well do cards fit in this Vault X Binder?
When it comes to fitting your cards inside a binder, you should be looking for individual pockets that can hold a sleeved card comfortably. We would not recommend putting un-sleeved cards into a binder, as the fit will be too loose making the card more likely to move around or fall out of the pocket entirely. 
A tight fit will be both inconvenient and risk damage to the cards when putting them inside, as well as bending pressure once inside. A loose fit will make for a better 'pocketing' experience but will be more likely to cause cards to slip out, invalidating the purpose of the binder. We therefore simply classify all binders' card fits as 'tight', 'loose' or 'good'. 
To test this out, we filled the entire binder with 360 single sleeved cards, sleeved in a variety of different outer sleeves from different manufacturers. Overall, we would say that the Vault X Strap Binder's fit was good, both loose enough to pocket cards with ease, yet tight enough to feel secure.
Is the binder bendable?
As far as protection goes, delicate and bendable cardboard needs a degree of external rigidity to prevent damage. When looking at binders, we use the bendability category to clearly state the level to which a binder bends so you can make an informed decision as to if it's appropriate for your needs.
We tier bendability into 3 levels: 'very bendable', 'somewhat flexible' and 'rigid'. It doesn't take long to feel that the Vault X Strap Binder offers little to no resistance when pressure is applied, and is therefore 'very bendable'. 
The perforation of the pages around the card pockets plays a big part here by taking the brunt of the bending away from the cards themselves. Even so, we would not recommend putting expensive or precious cards within this binder and, if you do, make sure it is kept in a safe place where its bendability is not exposed.
How durable is the Vault X Strap Binder?
Binders offer multiple uses: organisation, protection and display being some of the main ones. Focusing on the latter 2, it is important to understand the durability of binders both in terms of saving the cards inside but also remaining presentable and aesthetically pleasing.
To simulate wear and tear over time, we do a series of scratch tests followed by a dent test and finally a drop test to see how well the Vault X copes with abrasion and potential for denting and overall damage. To do this we attempted to scratch the front cover with our fingernail 10 times, tough metal ring 10 times, and a nib-less pen 10 times. The result was that neither of the options left more than a slightly discoloured patch and no long term markings or grooves. A good start.
We then laid the binder flat on the floor, full of cards, and dropped an empty Satin Tower deck box from waist height, corner first, twice. The result of this was concerning. 2 large dents were formed and one had caused a slight marking on the page below. Lastly, whilst full of cards, we dropped the binder from waist height onto the spine. The result was structural creasing on impact and some separation of the 2 sheets of plastic on the front and back cover.
A closeup of the damage inflicted in our durability tests.
It is worth noting that these tests are designed to simulate potential wear and tear over time through the use of more extreme scenarios - sometimes knowing the limitations of a binder can be useful.
In summary we can conclude that the Vault X Strap Binder is abrasion resistant to a relatively good degree but offered a less than ideal performance in the dent and drop test. We give it a score of 6/10 for Durability. Good enough for all casual uses but there are more secure alternatives out there.
Will the Strap Binder keep your cards safe?
Plain and simple: Do your cards fall out? We tested this by filling the binder full of single sleeved cards and, whilst somewhat secured with the attached strap, placed it in an empty rucksack. 10 hard shakes in all 4 orientations and we observed the results.
At first glance, we find that no cards fell out of the binder. Looking closer, we realised that no cards even partially slid out or shifted more than a few cms within their pockets. A very positive result, and we couldn't ask for more. We then repeated this test with the binder half full and saw some changes with 10 cards loose within the binder pages, and 2 cards falling from the binder all together. While this is much worse than the results with a full binder, it is also to be expected. With more room and less pressure forcing the cards to remain still, there is bound to be more movement.
Overall, a reasonable score of 6/10 for security. Fantastic security when full or near full, but the limitations of an elastic strap closure are exposed when the cards are given more leeway to move around.
How clear are the pockets?
As a key reason to use the Vault X Strap Binder is to store your precious (and often shiny) cardboard, it is important to show off these miniature works of art in the best possible way. We test clarity by placing a foiled card halfway in the page pockets to see how the clear plastic affects it.
Gladly, we can report that the pages are clear and clean, an easy pass for clarity.
How much does the binder cost?
Finally, one of the biggest selling points for this Vault X binder is its price. The RRP of the popular 9-Pocket size is £15.99, however, you can normally find the binder for a lower price. We currently sell this binder in the UK for £12.49 - lower than both the Gamegenic Casual Album and the Ultra Pro Eclipse Binder.
Naturally, the 12-Pocket binder comes in slightly above this price at £14.95 and the 4-Pocket binder is lower, at £9.99.
As with all the products we review, we always encourage you to do your own price research for your own area.
The range of colours of the Vault X Strap Binder.
Closing thoughts
The Vault X Strap Binder is one of the best value binders on the market. The flexible plastic cover and elastic strap could put you off and, if so, there are many sturdier and well equipped binders for your needs. However, if your requirements are for a storage binder to sit on a shelf and organise your collection, merely providing a neat solution compared to boxes of unorganised commons, then this may be the binder for you. 
The similarity to other plastic binders cannot be ignored. For the most part, the materials and build quality are identical, with the main differences being the low price of the Vault X Strap Binder but also the smaller range of colour options - just 6 compared to Gamegenic's 9 and Ultra Pro's 12.
It must also be mentioned that, despite the low price tag, all of Vault X's products come with a full 1 year warranty. This is relatively unheard of within TCG accessories manufacturers and should certainly fill any buyer with confidence that the quality will be of a good standard. This is something we would love to see from more accessory manufacturers.
| | |
| --- | --- |
| Build Quality & Materials | 5/10 |
| Card Fit | Good |
| Bendability | Very Bendable |
| Durability | 6/10 |
| Security | 6/10 |
| Clarity | ✔️ - Pass |
| Price | £12.49 |
With a relatively acceptable performance in the scratch and drop tests, most accidents will be non-consequential. Coupling this with a lovely card fit and great clarity, you can easily make a case for this simple product becoming your next MTG or Pokemon binder.
Related articles