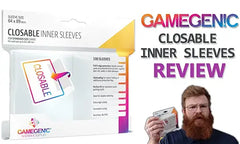 For many of us, our cardboard collection is more than just a selection of necessary game pieces, they are precious to us, and require a suitable means of protection. For years, Dragon Shield has been the prominent player in the maximum protection market, thanks to their Sealable sleeves. Now, with the introduction of the Closable inner sleeves, can Gamegenic provide some much needed competition? Let's test them and find out!
What are the Gamegenic Closable inner sleeves?
The Gamegenic Closable inner sleeves are Gamegenic's offering to those who want the ultimate protection for their prized cards. The Closables are made with 50 micron thick plastic, adding 150 microns of thickness when triple layered around a card. At a size of 64 x 89 mm they are perfect for Pokemon cards and Magic cards, but Yugioh and other small sized cards are not currently supported. In practice, standard sized cards fit very well into the Closable sleeves - snug but not overly tight.
Similar in concept to the Dragon Shield Sealables, the Closables have an extra flap which wraps around the card an additional time compared to a regular inner sleeve. This almost acts as a double-sleeving mechanism in itself before being inserted into an outer sleeve to seal the deal. The added step of tucking the flap into the sleeve can take a few attempts to get used to but, once in the rhythm, it is not difficult to do. We would estimate it takes double the amount of time to sleeve a card in a Closable sleeve compared to a regular inner sleeve.
The key difference between the Dragon Shield Sealables and Gamegenic Closables lies in the orientation of the wrap, with the Sealables being a more traditional top-loading vertical sleeve, and the Gamegenic Closables opting for a side-loading horizontal seal.
Cards fit snugly into the Gamegenic Closable sleeves which are designed with a closable flap for extra security.
How strong are the seams?
We check the toughness of all sleeves, inner or outer, by pulling on the sleeves until they snap in order to gauge how much resistance is given. It didn't take long for us to see that the Gamegenic Closable inner sleeves have very weak seams, with every attempt leading to a clean split without much effort at all. A surprising result due to the incredible toughness of Gamegenic's regular inner sleeves.
While the seams do split under pressure, we must also add that we did not have any problems with the Closable sleeves splitting during the sleeving process. So, overall a mixed bag but we can only an average 5/10 for seam strength.
Are they good for double-sleeving?
To test how well the Gamegenic Closables double-sleeve, we sleeved up 100 cards in them and then combined them with 13 different outer sleeves. This resulted in 1300 double-sleeving attempts on which to judge them by.
It quickly became clear that, due to the design of the Closable sleeves, the secure closure around the card meant that there was no possibility of the card slipping out, even when being pushed into a tight outer sleeve. Regardless, we tested all 1300 fits for thoroughness and found a perfect 1300/1300 good fits with no issues to speak of.
While not entirely surprising, this is still exceptional performance and one of the greatest advantages of using such a sleeve. An easy 10/10 for double-sleeving.
For a full breakdown of our double-sleeving results, visit our Ultimate Double-sleeving Guide.
How do foils look in them?
When it comes to clarity, we expect all inner sleeves to be perfectly clear - they are just bits of thin, transparent plastic after all. In this regard, we are happy to report that the Gamegenic Closable inner sleeves fit this norm, and they will display your cards clearly. 10/10.
No clearness issues with the Closables, perfect for showing off your holos.
How secure are these Gamegenic sleeves?
We test the security of inner sleeves by submerging our double sleeved cards in water. After leaving them for 10 seconds, we rescue the cards and pat them fully dry to make sure no water is transferred onto the card during this stage.
Once dry, we found that no water was able to get through the barrier offered by the Gamegenic Closables. The extra wrap around the card clearly improves upon the lacklustre protection offered by regular side loading inner sleeves (which we do not recommend).
However, we don't feel like it is inconceivable for water to get through the small opening present due to the side-loading nature of the Closables. On the other hand, the top-loading Dragon Shield Sealables make it nigh on impossible for any unwanted liquids to reach the card. While the Closable sleeves pass our water test and are more than good enough for use, they will never be as impregnable as a top-loading alternative.
What is the price of the Gamegenic Closable sleeves?
The RRP of the Gamegenic Closable sleeves is £4.99. We currently sell these sleeves in the UK slightly below RRP at £4.79 but prices will vary depending on your location and their availability.
Closing thoughts
The Closables are a simple yet high quality sleeve, something we have come to expect from Gamegenic. The consistency in sleeve size is great, with no noticeable fluctuations in tightness as you get with some other inner sleeves. Our only gripe with the design is the side-loading nature of the Closables. In practice, it doesn't seem to make a difference in protection - but why not toploading? Maybe Gamegenic wanted to differentiate themselves from the Dragon Shield Sealables in any way possible, we just don't know.
With a price point around £1 or 20% cheaper than the Dragon Shield Sealables, this discount alone may be reason enough to offset any downsides of the side-loading Closables. Overall, we would not hesitate to recommend the Gamegenic Closable sleeves to anyone looking to take their card protection to the next level. If you're still unsure then our handy Sleeve Comparison Tool may help you find your perfect inner sleeve!
| | |
| --- | --- |
| Card Fit | Regular |
| Seam Strength | 5/10 |
| Double-sleeving | 10/10 |
| Clarity | 10/10 |
| Water Test | ✔️ - Pass |
| Price | £4.99 |
Related articles