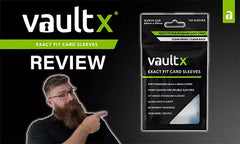 The Exact Fit sleeves are an inner sleeve made by Vault X, a company best known for their beautiful looking Pokemon binders. Given this, can a relatively inexperienced sleeve brand challenge the status quo and deliver a genuinely great inner sleeve? We'll put them through all of our usual tests to find out.
What are Vault X Exact Fit inner sleeves?
As an inner sleeve, the Vault X Exact Fits are designed to wrap snugly around a card before being inserted into a looser outer sleeve. Currently, the Exact Fits only come in a size appropriate for standard sized trading cards (63mm x 88mm), which makes sense given Vault X's inclination towards the Pokemon market. In practice, the fit around the card is good, not too tight and not too loose.
At 60 microns thick, these Vault X sleeves are among the thickest of inner sleeve available, with only the Dragon Shield Perfect Fits on par. This can be a good thing if extra protection is what you're looking for, but it can make a fully double-sleeved deck difficult to fit into some deck boxes.
The Vault X inner sleeves fit around the card nicely without applying pressure.
How tough are the Exact Fit sleeve seams?
We rate the toughness of the seams by seeing how much force it takes to pull the sleeve apart. While we don't expect an inner sleeve to put up much of a fight, these Vault X sleeves were some of the weakest inner sleeves we have ever tested. The sleeves split like butter straight down the seams with minimal effort.
We then proceed to test how the seams hold up during the sleeving process, making sure to catch the corners of the sleeve when inserting the cards. Miraculously, the sleeves do not seem to split in this test, slightly redeeming themselves in the process.
Even so, we can only award a poor 4/10 for overall seam strength.
How well do they double-sleeve?
In one of our most comprehensive tests, we see how well the Exact Fits double-sleeve by combining them with 13 different outer sleeves. This means 1300 double-sleeving attempts on which to judge their proficiency! 
We classify a double-sleeving attempt as good if the inner sleeved card can be pushed into the outer sleeve without issue. We classify the attempt as bad if the card slips out of the inner sleeve when being pushed into the outer. This is not to say the attempt is a total fail, it just takes more effort and fidgeting to fix the issue.
After all 1300 sleeving attempts, we found a bad fit rate of 123/1300, the 3rd highest of all inner sleeves. To see a full breakdown of our double-sleeving tests, visit our Ultimate Double-sleeving Guide.
This high error rate compared to other inner sleeves means the Exact Fit sleeves score a middling 6/10 for ease of double-sleeving.
Are the Vault X sleeves clear?
Yes! You'll be glad to hear that there are no issues in this department. The Exact Fit sleeves are perfectly clear and will display your collection in all its glory.
The Vault X inner sleeves are crystal clear.
Will the Vault X sleeves keep your cards safe?
To see just how well the inner sleeve protects cards from air and liquids, we mix them with various outer sleeves and then dunk the double-sleeved cards underwater for 10 seconds. After 10 seconds, we carefully pat the sleeves dry and un-sleeve to see if there are any signs of water damage.
With the entire reason for double-sleeving being to protect your cards, this is a vital test that all inner sleeves must pass and the Vault X inner sleeves do just that. No water was able to reach the exposed edge of the card at all, and if it can survive 10 seconds underwater, it can survive a spilled drink on the table and form an effective barrier against moisture in the air.
How much do these Vault X sleeves cost?
The RRP for a pack of Vault X Exact Fit card sleeves if £3.99. They can normally be found a little cheaper than this, with the price coming down for larger quantities. We currently sell them in the UK for £3.75.
Closing thoughts
The Vault X Exact Fit inner sleeves are perfectly functional and comparable to other top brand offerings. Slightly more expensive than the Gamegenic Inners and the Ultra Pro PRO-Fits, but slightly less expensive than Dragon Shield's Perfect Fits. You can see exactly how they measure up against the others in our Sleeve Comparison Tool. 
Their fit around the cards is unlikely to offend, as they are not overly tight nor overly loose. All of this means they break no new ground (it's tough to do so in the inner sleeve market) but, they do their job well and you should have no concerns picking up a pack if you find them on the shelves. 
| | |
| --- | --- |
| Card Fit | Regular |
| Seam Strength | 4/10 |
| Double-sleeving | 6/10 |
| Clarity | 10/10 |
| Water Test | ✔️ - Pass |
| Price | £3.99 |
Related articles