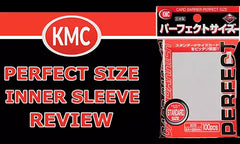 If you've been in the TCG world for long enough, then you'll be familiar with the varied history of KMC sleeves. The once renowned king of card sleeves suffered a fall from grace as they became plagued by quality control issues on many of their products. Today, we take a look at their Perfect Size inner sleeves to see what's changed, and where they stand in a very competitive market in 2023.
What are KMC's Perfect Size sleeves?
The Perfect Size sleeves are KMC's original inner sleeve. They are made with 40 micron thick, acid free plastic, and come in a standard size of 64mm x 89mm as well as a Japanese card game size of 60mm x 87mm. 
The general fit around the card falls into our medium category, not too tight and not too loose.
The packaging variations of the Perfect Size sleeves can be confusing. They are the same product and should be the same quality too.
How strong are the seams?
The first thing we test when reviewing an inner sleeve is the strength of the seams. This is done by carrying out a simple stretch test which you will have most likely seen in action on various YouTube video reviews (including our own!).
During the stretch test, we found the KMCs to put up a good amount of resistance. Some sleeves split more easily than others but some of the sleeves really did not want to give in. A much better showing than most other inner sleeves we have tested.
While the stretch test is a fun thing to do, there's nothing quite like sleeving up a 100 card deck to see how the seams hold up in practice. Well, we did just that and we're glad to say that none of the KMC Perfect Size sleeves split in the process. We can't ask for much more and we give a near perfect 9/10 for seam strength.
Are the KMCs good for double-sleeving?
As one of, if not the, main use of an inner sleeve, how well it double-sleeves with various outer sleeves is of utmost importance. With that in mind, we tested the KMC Perfect Size sleeves with 13 of the most popular outer sleeves available today, to see just how well they combine with each. During these sleeving attempts, we are counting how many times the card slips out of the Perfect Size sleeve when being inserted into the outer sleeve. While this annoying occurrence can normally be fixed, it still detracts from the efficiency and enjoyment of double-sleeving a deck. The table below shows how the KMC Perfect Size sleeves performed in relation to other inner sleeves we have tested.
| | |
| --- | --- |
| Inner Sleeve | Bad Fits |
| DS Perfect Fit | 174/1300 |
| DS Sealable | 0/1300 |
| GG Closable | 0/1300 |
| GG Inner | 78/1300 |
| KMC Perfect Size | 89/1300 |
| KMC Perfect Hard | 315/1300 |
| UG Katana Inner | 36/1300 |
| UP PRO-Fit | 0/1300 |
| Vault X Inner | 123/1300 |
As you can see, the KMCs are somewhere in the middle of the pack, and with less than 1/10 attempts requiring fixing, this is not a major concern. We score this an 8/10, again in relation to other inner sleeves. 
To see an even more detailed breakdown of the results, visit our Ultimate Double-Sleeving Guide.
How clear are the Perfect Size inners?
As expected, the 40 micron thick, transparent plastic of the KMC Perfect Size sleeves is perfectly clear. As long as your outer sleeve of choice is also high clarity, you'll have no issues displaying your foils in all of their shiny glory.
Like most inner sleeves, the KMC Perfect Size sleeves are crystal clear.
Will they protect your cards?
To see how well the Perfect Size sleeves will protect your cards, we double-sleeved with them and then submerged the layered cards under water for 10 seconds. Once removed and patted down, we carefully un-sleeved the cards to see if any water was able to make its way to the exposed edge at the bottom of the sleeve.
The point of this exercise is to test how good the seal created by the double-sleeving process is, and the KMC Perfect Fits passed with flying colours, no matter which outer sleeve they were paired with. Given this, we have no doubts they will protect your cards effectively from liquids and any moisture in the air.
How much do they cost?
The RRP of the KMC Perfect Size sleeves is $6.99, making them one of the higher priced inner sleeves. As with most products, you should be able to find them on the secondary market slightly below the RRP.
Closing thoughts
Whether the KMC perfect size sleeves fell off in quality for a period of time, we cannot be sure. What we can be sure of is that the product we tested today is of a high quality and on par with the best inner sleeves available in 2023. While they no longer reign supreme over the market, we are glad to remove our doubts on the current standard of the sleeves. You can see exactly how they stack up against the rest in our Card Sleeve Comparison Tool.
If you're in the UK or mainland Europe, your bigger issue may be finding a pack of these on your shelves in the first place! Being a company of Japanese origin, and now with a division focused on North American operations, not much priority is given to markets outside of these territories. Hopefully this changes in the future, and we wouldn't hesitate to stock the KMC Perfect Size sleeves should they become more widely available.
| | |
| --- | --- |
| Seam Strength | 9/10 |
| Double-sleeving | 8/10 |
| Clarity | 10/10 |
| Water Test | ✔️ - Pass |
| Price | $6.99 |
Related articles